As if we didn't have enough edivence that the Democrats are committing politcal suicide every time they open their mouths, they continue to push through their fake news propaganda thinking that they can trick everyday voters into voting for them as see n with these recent DNC Emails. Let's tune in to see how delusional the Democrats are being this week.
Launching our 2020 election program
Yeah off to a good start with the voter turnout aren't you? That record low turnout in Lowa looks very good on your part.
Dear MoveOn member,
I'm not a member for the hundredth time, stop sending me Emails.
Today, we are formally launching our 2020 election program: America for All. And in 270 days, together, we will defeat Donald Trump and his Republican accomplices, while electing progressive leadership that will take our country forward.
You can't even run an Iowa caucus, what thinks you can beat an incumbent president who got more votes in New Hampshire than all the Democrats running in New Hampshire and got more than twice as many votes in New Hampshire than previous incumbents like Obama, Bush Sr, ]Bush Jr and Bill Clinton combined.
Watch and share this short video we just released about America for All.
You can watch and share it on YouTube, Twitter, or Facebook.
Oh i will share this, trust me.
Since Donald Trump took office, his administration has relentlessly attacked and threatened communities across our country and beyond our borders, while trampling on the very foundations of our democracy. All the while, the Republican Party has stood by his side.
Name one policy Trump has done that has threatened communities and the world. The lowest unemployment rate for blacks and Hispanics, record-high job growth for America, ensuring protections of the LGBT on a global platform and funding historically black colleges, do tell me how that's threatening to anyone?
Trump has locked children in cages, tried to tear away our health care, condoned the rise in gun violence, rolled back our commitments to fighting climate change, and given away billions to the rich and giant corporations through his tax cuts while attacking student debt relief and food assistance for middle-class and poor people.
Bullshit, bullshit, and even more bullshit. Trump ended Child separation while Obama ramped up Child separation and currently still is above Trump's deportations as he deported 3 million illegals out of the country, funny how none of you people call Obama a racist for deporting 3 million illegals or Joe Biden who backed the policies, funny how you people were entirely silent on the Democrats not calling out Obama's mass deportations.
As for taking your healthcare, bullshit yet again, Obamacare was a disaster, it was right-wing Mitt Romney Care which raised premiums and made our already expensive healthcare system even more expensive, it was also unconstitutionally passed through by the Supreme court so it was overturned, Trump hasn't removed the few good things about Pre Existing conditions ban which prevents healthcare companies from banning , I also find it funny you're claiming Turmp is attacking our healthcare when he recently announced plans to lower drug prices, a policy originally pushed by Bernie Sanders, o by your logic, Bernie Sanders is attacking your healthcare.
As for climate change, i agree Trump has cut back on the EPA which i don't agree with and I'm at odds with Trump on Climate change, however, when it comes to the Paris Climate Accords which i assume this is about, he's 100% correct to get us out of that bullshit policy. Also, i don't want to be lectured by hypocrites who fly on private jets while trying to ban plastic straws like in California or Plastic bags like the dipshits are doing in my home state. How about you clean up your cities like San Franciso before trying to clean up the world, maybe then i would respect you.
Also, the tax cuts benefited the Middle class more than the Billionaires, nice try bitch. You don't get to lecture anyone one Billonaries when you people are taking cash from Billionaire Bloomberg. As for cuts against Food Stamps, funny enough i got a 25 dollar increase in Social Security and food stamps so the cuts in Food Stamps are bullshit, in fact, Obama and Clinton have cut more in welfare than Trump so nice try.
And he's done it while emboldening white supremacists in the streets and in the White House and advancing a white nationalist agenda.
Yeah, funding historically black colleges are totally advancing a White Nationalist agenda, i guess unprecedented economic growth for Blacks and Hispanics, low unemployment for blacks and Hispanics and increased prosperity for Blacks and Hispanics are also furthering a White Nationalist agenda because we all know White Nationalists want Blacks and Hispanics to be wealthy and rich right?
But the last three years have also seen an awakening in this country of millions of people who believe a better world is possible and have shown they are willing to stand up for it.
Yeah that "awakening" was totally shown in Iowa and New Hampshire Primaries, where Turmp curbstomped the Democratic candidates in terms of turnout in both states whereas Vortyer turnout for Democrats was abysmal and New Hampshires turnout was mediocre compared to 2016
We've been part of mass people-powered demonstrations: the night after the election in 2016; at the Women's March;
That was 2017 dumbass, not 2016. Also a bunch of dumb dipshits, mostly white liberal women protesting about nonexistant sexism from Trump all over some tape from a decade ago making a joke because they're moronic sheep who listen tho what the CIA driven media has to say.
at airports to protest the Muslim Ban
Which you were entirely silent about when Obama did that 4 times as president.
; in the streets against family separation
Once again i refer you to Deporter in Cheif who deported 3 million Illegals.
, gun violence,
Which has actually gone down.
and more.
Because you're backed by Soros.
We made hundreds of thousands of phone calls to Congress, showed up at town hall meetings, and organized and campaigned our hearts out successfully to prevent the repeal of the Affordable Care Act. We defended the Mueller investigation so the truth about Trump's abuses would come out, and then secured his impeachment.
Translation:We're sheep who baww for that Soros and Bloomberg money.
And in 2018, we fueled a massive "blue wave," ending single-party rule in Washington and electing bold progressives up and down the ballot.
Which was barely enough to take back the House and failed to take back the senate.
Now, it's time for us to take that energy, dedication, commitment, and solidarity that so many MoveOn members have shown over the past few years and translate it to the ballot box. There's no question that Trump will be successful in turning out his base this year, in what is likely to be the highest-turnout election in American history on both sides of the aisle.
You are delusional to think anyone would vote for Sanders or even Bloomberg. Sanders is a communist who has Zero support from the Swing States at this point, so bad they are literally voting for an Openly Gay candidate who has 0% black votes who rigged Iowa and Bloomberg who literally backed the most racist policies in American history since Segerariton who has equally rigged the election like Buttigieg. Either candidate wining is going to cause millions of Democrats to defect to the Trump Train. If Sanders wins, Millions of Neo-Liberals and even Never Trump Neo-Cons would defect to Trump or stay home, if Bloomberg or Buttigieg wins, Millions of Porgressieves, far-leftists and Youth voters would defect to Trump or stay home, either way the chances of high voter turnout for Democrats is extremely unlikely and just shows how delusional you really are.
But there are more people in this country who see things our way than support Trump, and if all of us work together and show up to vote, we will win, not just sending Trump packing with a resounding defeat, but winning the Senate and House with a mandate for progressive governing.
HAHAHAHAHA! Only 8% of people in the country agree with Progressive policies, there are literally over 3 times as many hardcore Trump Supporters as there are Progressives. Also, the Democrats are divided and fractured to the point regardless of who wins, millions of people would not vote for the winner of the primary and might defect to Trump, combine that with the over 45-50% of Approval Turmp currently has and 60% of Americans approving of Trump's job and the skyrocketing support of Black and Hispanic support for Trump with black support as high as 34% alone, you're beyond delusional to think you have a chance of winning back power, especially when you can't even run a fucking primary..
November 3 is 270 days away. And what we do over those next 270 days is critical. This is why MoveOn is investing in a massive and game-changing election program. Here's what we'll do:
Mobilize millions of MoveOn members to volunteer in this election, contribute to candidates, and fuel the blue wave.
Good luck with that when you can't even mobilize for the primary
Inspire "high-potential voters" to vote, some for the first time. These are voters who may not have voted in 2016, including young voters, first-time voters, people of color, the middle class and the poor, and new Americans.
Hate to burst your bubble but most people who didn't vote in 2016 are Bernie Bros who are unlikely to vote if Bloomberg or Buttigieg wins, Most undecided voters, in general, are independents, the vast majority supporting Trump at this point and the others unwilling to vote in Socialists or corporate Neo-Liberals, Most Young voters are Generation Z who are the most conservative generation since World War 2 and are likely to vote Trump. People of color are actually increasing in support for Trump, in fact if you allow Bloomberg or Buttigige to become nominates, you would actually see a massive decline of the Black vote. As for Middle Class, most support Trump's tax cuts, and "New Americans, you mean the illegals you brainwashed into thinking you give a shit about them? You're beyond delusional.
Protect the right to vote from social media and digital disinformation schemes that seek to undermine it.
You mean the Bloomberg backed ads that spread fake news?
It's a $20 million plan to go big all over the country, especially in 10 key battleground states—Arizona, Florida, Georgia, Maine, Michigan, Nevada, New Hampshire, North Carolina, Pennsylvania, and Wisconsin—that are critical to winning the White House, flipping the Senate, and defending the critical House majority.
And do tell me what chance you have of flipping any of these states when you have Socialists that scare the vast majority of Americans and Corporate Neo-Liberals who ignore Middle America for decades?
Trump and the GOP will have big money, the politics of hatred and division, and the power of incumbency. We also expect that Trump, knowing the Republican Senate will give him carte blanche to violate the law, will lie and cheat and seek to rig the election to the best of his ability.
And this is why you fucks are losing, you think Trump broke laws when he didn't, you're failed witchhunt failed to remove Trump from power, in fact you just signed your death warrant for 2020 politically as you commit politcal suicide
But we have the people power—the power of culture and story and togetherness. And when we combine it with the best digital and mobile innovations and add high-impact applied analytics, all based in strong organizing, we can win this November. That's what we showed in 2018 and what we"ve been showing time and again during these past three years.
Once again you're delusional if you think you can win at this point.
That same energy that mobilized us to win on health care, take the House in a landslide with the largest midterm turnout in a century, and reach this historic moment on impeachment is what we need fueling the movement over the next 270 days to vote Trump and his GOP accomplices out.
You barely won the house, nice try faggots. As for the historic moment on Impeachment, i agree, it was historical, it would be remembered as the day Democrats commit politcal suicide via pushing for Impeachment during an election and failing miserably and you morons autistically screeching.
Get your free VOTE THEM OUT sticker today. There's plenty we'll be doing together over the next 270 days, and we want to send you a badge of pride that you're ready for the work ahead.
Thanks for all you do.
And thank you for handing Trump a second term on a silver platter.
Want to support MoveOn's work? The MoveOn community will work every moment, day by day and year by year, to resist Trump's agenda, contain the damage, defeat hate with love, and begin the process of swinging the nation's pendulum back toward sanity, decency, and the kind of future that we must never give up on. And to do it we need your ongoing support, now more than ever. Will you stand with us?
translation:We're fucking tools of Billionaires.
Onto more bullshit.
,
Will you sign the petition stating that we stand in solidarity with Lt. Col. Alexander Vindman and do not accept Trump's retaliation against witnesses who testified on impeachment in front of the House?
No, because i don't support people who commit sedition and treason and try to back the Deep State coup against the president. Vidndman shouldn't have been fired, i agree with that, he should be in jail awaiting trial for sedition and treason.
With a blank check from the Senate's sham impeachment trial in hand, Donald Trump is out for revenge.
Finally, we agree for once on something, the Impeachment trial was a sham.
He's lashing out against anyone who put their loyalty to the country ahead of their loyalty to him—and against people whose only involvement is being related to individuals who testified before Congress.
Translation: He's firing people who aren't doing their jobs and agree with our Deep State agenda. Also funny how getting rid of holdovers from a previous Amdesisration is all of a sudden a problem when literally every president has done this and it's part of executive pliverges granted by the Bill of Rights and the Constitution, unlike you dipshits, i do research.
Lt. Col. Vindman has been pushed out of his role at the National Security Council and was escorted from the White House. The American people will not sit quietly by as President Trump fires a decorated military officer in childish retaliation.
Oh, i love how this "Progressive" organization is suddenly defending a Bush-Era Neo-Con who backs the Military-Industrial complex and are suddenly pro Military. Weren't you the same people bitching about us going to war with Iran just a month ago? I love how you're now all of the sudden defending the National Security Council, the same one who pushed for this war because it's convenient for your Turmp bashing agenda?
Sign this petition stating that we stand in solidarity with Lt. Col. Vindman and that Trump cannot retaliate against witnesses in his own impeachment trial.
How about no and you can suck my cock.
Alexander Vindman is the top Ukraine expert who was on the fated July 25 phone call where Trump tried to extort an investigation into the Bidens from Ukrainian President Volodymyr Zelensky. Vindman later testified before the House about what he heard on the call.
Translation: Alexander Vidman is a lying peice of shit who tried to commit sedition against the president and tried to cover up the corruption of the Biden's while backing a soft coup against Trump. Also very telling that the "Progressive" organization trying to get money out of politics is overtly defending Joe Biden, a Neo-Liberal who has corruption tied to Ukraine. Also, there was no edivence of Quid Pro Qou on the part against Trump, this was bullshit debunked by the Whilsterblower himself.
Vindman did this country a great service.
Translation:He did our bidding
He felt, in his words, a "sense of duty" to tell Americans the truth—and now, that honorable act has cost him his job, his career, and his privacy. It also led to the dismissal of Lt. Col. Vindman's brother, who had no involvement in the testimony.
Funny how Assange and Snowden are traitors you want locked up for actually telling the truth about the Establishment, inculding the exposure of Obama and Clinton's corruption yet Vindman, a deep state puppet who's a puppet of the Miltary Industrial Complex is suddenly a hero to you guys and you all now of a sudden give a shit about truth and justice? Gimme a fucking break.
Vindman needs to know that Americans are thankful for his courage—and that Trump's attacks can't change the important truth that he told.
You already lost this arugment bitch, Trump's still your president, get over it!
And the White House must be met with a nationwide outcry that we will not allow for witness retaliation and that we condemn Trump's abhorrent decision to punish Vindman for his patriotism.
Oh, now you suddenly give a shit about Patriotism? Weren't you the same people apologizing to Iran for Trump's airstrikes against Solenami, the man who killed actual American Patriots? Weren't you the same people claiming America was never great and we're an evil white supremacist nation? Weren't you the same people who defended Pelosi tearing up the State of the Union? Miss me with your gay shit nigga, you people don't give two shits about Patriotism, you care only about people who you can use as props because you're desperate, princpleless, cowardly, morally bankrupt Hyprticial snakes.
But that's not even the cream of the crop of the bullshit, let's go into more bullshit.
Dear MoveOn member,
Sign this petition demanding that the House Judiciary Committee and Department of Justice Inspector General investigate William Barr's Justice Department!
The Department of Justice appears to be putting Donald Trump's friends above the law.
Translation:Our Russian Wtchuunt is falling apart and all the bullshit imprisonments of our politcal opponents is ending.
Following a tweet from Trump, the Justice Department undid the work of career civil servants prosecuting Trump's confidante, the convicted criminal Roger Stone, shortening the sentence they were seeking in his case. All four of the federal attorneys responsible for pursuing justice for Stone's crimes have resigned in protest.
Translation: We're salty we can't just imprison people who disagree with the Deep State Agenda.
The Justice Department's internal watchdog must investigate the corrupt about-face made at the seeming behest of Donald Trump and call out cronyism within its own ranks.
Ironic given you're the same people defending Hunter Biden and Joe Biden and were silent about the cronyism under Obama.
But given how compromised disgraced Attorney General William Barr is, we cannot trust the Justice Department to correct its course. The House Judiciary Committee, which has oversight of Barr, must also investigate independently.
Translation: We don't like the fact our witchhunt fail so we're attempting to attack the people who made Trump escape our Deep State Soft Coup.
Sign this petition demanding that the House Judiciary Committee and Department of Justice Inspector General look into the Justice Department's reversal on Roger Stone.
Once again NO!
Donald Trump has already shown that he thinks he's above the law, and will act accordingly. But the Justice Department showing preferential treatment for Trump's criminal accomplices is a threat to the country.
Translation: We're mad that we can't actually impeach Trump over imaginary crimes and will repeat the lie that Trump thinks he's above the law to try to make morons think that people ensured by the baseless Russiagate hoax being freed is a bad thing.
This turn has come within a week of the Senate GOP refusing to hold Trump accountable for his impeachable offenses. If the Department of Justice's Inspector General and the House Judiciary Committee don't act now, Trump will be shown that he is free to bend the law to his whim.
Projection much bitch? You're the same people who refused to have Hillary prosecuted over Emailgate and let the Bush Crime family walk away Scott free for their war crimes and for lying us into war. You're just mad Trump is trying to keep to his word and drain the swamp.
But we're not done yet, oh boy the delusions never end with these dumb faggots, does it? Look at this gay ass sticker here.
Can we send you a free "America for All" sticker?
MoveOn Sticker Team <moveon-help@list.moveon.org> Unsubscribe
Feb 12, 2020, 2:10 PM (5 days ago)
to Evan
Dear MoveOn member,
Last week, MoveOn unveiled our $20 million 2020 election program, "America for All." For the next nine months, we will be working to inspire the 7 million "high-potential voters" across 10 critical battleground states to turn out to vote. We'll mobilize MoveOn members and our allies to volunteer and organize in their communities. And we will flex our digital muscles to protect the right to vote from online disinformation and voter suppression campaigns.
Yeah how's Iowa working for you?
This is the biggest and boldest election program in MoveOn's history, and although defeating Donald Trump and his Republican allies is critically important, our plan is about so much more than that.
Yeah, i do agree here it's more than just your insane ORANGE MAN BAD bullshit.
It is about building a more equitable America, where immigrants, refugees, and communities of color are safe and welcome.
Translation: We want to destroy America via Communism and Open Borders.
Protecting the lives and dignity of trans Americans.
Translation: Use the legitimate issue of Trans rights as a trojan horse for your woke SJW agenda and to use it push this shit on children.
Creating true equality for women.
Translaiton:Take away jobs from men to benefit women.
Fighting back against out of control corporate greed.
By electing President Mike Bloomberg or Tom Styeter, Rich Billionaires who are backed by Big Hollywood and Coproations.
Ensuring that health care is a human right.
Tranlsaiton: Crash the ecomony with a completely ineffective healthcare law.
Tackling the climate crisis head on.
Translation: Charge poor people money for carbon taxes, fuck over the poor with Plastic bag and straw bans and have Police stop and frisk black and Hispanic people for plastic bags while Millinaries and Billonares fly on private jets and live in the beachfront property and make bank outsourcing fossil fuel production to China
And so much more.
To celebrate the launch of "America for All" and spread the message that in November we can choose to vote for a better future for our country, MoveOn has just printed a big batch of stickers, and we're giving them away for free, while supplies last.
Just click here or on the image below to get your free sticker now!
No thanks, i rather get assraped by a Hippo.
And this sticker is best summed up as everything wrong with the Left. This is the Democartic Party in 2020, Reprirartions, Open Borders, pushing Trans shit on kids, claiming to be Anti War yet backing candidates who are for wars, backing climate change policies that won't reduce Co2 levels and a shit ton of other shit that don't win elections, let this be a statement,as an example of how delusional the left is.
This November is our opportunity to build on the historic blue wave that MoveOn members and our allies powered in 2018 and elect bold progressives to positions up and down the ballot, including president of the United States.
The existential threat of Trump's presidency is almost over⁠—but only if we all come together to fight for an America for all.
4 more years! 4 more years! Also, let's be frank, you're so-called" Existential threat" has been far better for Minrites and the very groups you claim to represent than Obama or any Democrat for the last few decades.
But we're not done yet here, having not learned their lessons from the curb-stomping they received within the Brett Kavanaugh hearings and impeachment, they are going to try to shame Susan Collins again, how funny Democrats who want to push down feminism down our throats want to remove a woman from office over disagreements
Susan Collins' worst week ever

Susan Collins Accountability Alert (a MoveOn elections update) <moveon-help@list.moveon.org> Unsubscribe
Feb 16, 2020, 9:32 PM (1 day ago)

to Evan
Dear Evan,
When Susan Collins voted against the impeachment of Donald Trump, she said she thought he'd learned his lesson and wouldn't do the same thing again
Colins doing something right again? I didn't think it was possible for a Neo-Con to do that.
.1
How's that going, Senator Collins?
Considering all things, pretty good.
Everything Trump has done since his acquittal has proved that the only lesson he learned was that he can do literally anything and Republicans like Collins and other so-called "moderates" will never hold him accountable.
Colins is Pro-Choice dipshit, how is she not a Moderate Republican?
In fact, since day one of Trump's presidency, Collins has shown that she will never stand up to Trump or Mitch McConnell.
Oh Noes, a Republican who votes on Party lines. I wonder if Peolisl or Chuck Schummer voted against Clinton during his impeachment trial.
From tax cuts to Brett Kavanaugh to impeachment, Collins has been there to help McConnell push through Trump's agenda—all while disregarding her constituents and disingenuously expressing deep concern about how troubling all of this is.
Translation: We're mad that Colins didn't bend the knee to us.
Enough is enough. No one other than Trump himself bears more responsibility for the sorry state of our democracy than Collins—and she must go.
Good luck with that bitch.
Can you chip in $5 a month to help defeat Susan Collins and other vulnerable Republicans this November?
No, I'm sorry, I can't make a monthly donation.
No, suck my dick
In the week after Collins uttered the inexplicable words that Trump had "learned his lesson," Trump has publicly insisted that he did nothing wrong and that the whole investigation was an illegal hoax, and he has declared that he absolutely wouldn't do anything differently.
In short Trump is 100% correct to call it an illegal hoax and you're salty that he called it a hoax..2
Then, Trump began taking revenge on those who testified honestly during the impeachment investigation. He fired the ambassador to the European Union Gordon Sondland. He had security throw Lieutenant Colonel Alexander Vindman out of the White House, and even fired Vindman's twin brother for no reason at all
It's not like they colluded to try to overthrow Trump right?.3
Of course, Collins responded with a concerned statement that she opposes any retribution against impeachment witnesses.
Because she's on the same side as you, she's a corrupt Neo-Con who has her hand in the cookie jar of the Urkaine corruption probe like Romney.4
And now, Trump has triggered the biggest crisis at the Justice Department since Richard Nixon's Saturday Night Massacre, by overruling the amount of prison time that federal prosecutors would seek for his buddy Roger Stone, leading all of the Justice Department lawyers working on the case to withdraw.
Translaiton:We falsely accused Trump's associates of crimes they didn't commit and hence we're trying to spin another false narrative into a possible Impeachment attempt, which will fail the same way it did before.
What's Collins going to do about that? As usual, nothing.
Because there's nothing she can do because there is no crime.
The good news is that voters in Maine are sick and tired of her act. The latest polls say that she's the least popular member of the entire Senate with her own constituents.
Citation needed.
We can beat Collins and end Republican control of the Senate, but it's going to take a huge effort. Will you chip in $5 a month to help make it happen?
Yes, I'll chip in monthly to help defeat Susan Collins and end Republican control of the Senate.
No, I'm sorry, I can't make a monthly donation.
How about you suck my dick bitch
Change the rules of the Senate to ram through Neil Gorsuch on a near party-line vote? Collins voted for that.
Because no Democrat ever ran anything through party lines*coughcoughImpeachment*
Trump's massive tax giveaway to the rich? Collins voted for that, too,
You mean the same tax giveaway that lowered Unemployment, you know an issue that has nothing to do with rich people? Tax cuts that lead to record low unemployment and job growth amongst Blacks and Hispanics , many which you would characterize as being poorer than your average white man and below your regressive stack?
in exchange for McConnell promising to help her stabilize the Affordable Care Act insurance markets. Of course, when McConnell broke that promise, she did nothing.
Obamacare is shit, nuff said bitch!
And who could forget Collins casting the deciding vote to confirm sexual predator Brett Kavanaugh to the Supreme Court, after promising not to support a nominee who was "hostile" to Roe v. Wade
And how did that work out for you?Keep in mind she was willing to obstruct Bret Kavanaugh from going into the supreme court nomination until you dipshits made up this lie he's a sexual predator from a woman who outright committed perjury under oath, now thanks to your blunder, he's one more conserative in the Supreme Court. Also spare me your fearmongering bullshit, if 8 republicans in the Supreme Court in 1992 couldn't repeal Roe V Wade, what thinks a Cuckserative court pick is a threat to Roe V Wade,especially when he stated he won't come at Roe V Wade?
.6
Collins has gotten away with pretending to be a moderate for too long
Ever thought she actually is a moderate and you're the people at the extreme end of the spectrum? She's basically a Blue Dog Cuckserative Democart on most issues,esepcially on Abortion where she's actually fairly center left onit's more like you people are too far to the left, so much so ,you see Joe Biden as far right.LOL!
. Now it's time for her to go. Will you donate $5 a month to help defeat Susan Collins and other vulnerable Republicans in 2020?
No, I'm sorry, I can't make a monthly donation.
Sorry I don't got the Bloomberg bucks to back you fuckers. You are beyond delusional to think you can unseat collins with you far left bullshit.
Speaking of delusional morons, you can't get anymore delusional than the queen of delusional morons AOC, aka the most embarrassing part of NYC outside of Bloomberg and Del Blasio, a woman who is backed by Bloomberg and Soros money
A woman i acculreartly a Neo Liberal/Communist Hybrid who publicly preaches communism yet is making private backroom deals with the Establishment . A woman who wants blatant Open Borders, wants to ban airplanes and meat and wants to destroy America, Yep looks like bug eye senpai has noticed me and sent me this gem of a letter.

Alexandria Ocasio-Cortez <moveon-help@list.moveon.org> Unsubscribe
Thu, Feb 13, 3:23 PM (4 days ago)



Dear MoveOn member,
Hey dumbass, was waiting to give you
This is Representative Alexandria Ocasio-Cortez, and I'm writing to you today because I want to tell you about a powerful, progressive fighter who can shatter my record of being the youngest woman to serve in Congress.
Anyone you endorse, I automatically don't trust,especially when you are backed by Bloomberg and Soros you lying cunt.
Her name is Jessica Cisneros, and her win would get us one step closer to a better, more just America. But, Evan, she needs your help.
I wouldn't help you communist dipshits if you were on fire.
Jessica is running to represent the people of South Texas. She's 26 years old, she's a human rights attorney, and if she's elected, I'll have a strong ally in the fight for Medicare for All, getting corporate money out of politics, and fixing our broken immigration system.
Translation:You're going to lie your way into even more power. Bitch please, you flip flopped on Medicare for all in your own election here in the city cunt, you expect to believe some Bloomberh/Soros puppet is going to actually get money out of poltics?
But I can tell you from personal experience that the pathway to power for people like Jessica is blocked every step of the way.
Yeah because sane people don't actually vote for Communists, only entitled little shit Millenals do, Millienals who are in a desperate need of an assbeating so we can beat out the entitlement and faggotry infesting my generation.
Jessica is running against Representative Henry Cuellar, an eight-term congressman in a deeply blue district, who votes with Donald Trump about 70% of the time.1 He's known as "Big Oil's favorite Democrat," boasts about his "A rating" from the National Rifle Association, opposes abortion, and has referred to undocumented immigrants as "rapists and murderers.
Translation:Our rival is actually a sane middle of the road Blue Dog Democrat in a purple district in a state where Gun Control and Aboriton is deeply unpopular and we're delusional to think we're going to convince his voters that Gun Control , Open Borders and Aboritons are a good thing. Also considering the 80% of mirrrgant women are raped at the border by Coyotes and illegal alien men, there's truth to this claim of illegals commiting a lot of rapes and murderers , #NotAll.
"2
When we vote Trump's cronies out of office and instead elevate progressive leaders like Jessica Cisneros, we'll have the power to make transformative change.
You are once again delusional to think that you're going to unseat a president that has just hit record high approval and is several points ahead of Obama at the same time of his presidency
Will you join me in splitting a $3 donation between Jessica Cisneros's campaign and MoveOn's efforts to elect progressives up and down the ballot?
How about you go fuck yourself you communist spic., you're not only a major bullshit artist, you're a disgrace to Latinos and minorities everywhere.
Jessica is deeply connected to the problems and struggles facing our communities. She was born and raised in the border town of Laredo, TX.3
Cool Story bro, i don't give a shit. My little brother or rather half brother is of Ecuadorian descent with the father on his side of his family being an Ecuadorian Migrant from Ecuador, you're attempting to pander to me with your sob stories won't work. Stop assuming all who don't want open borders are evil racists who hate immigrants, no one is complaining about hard working Immigrants who come to this country and become naturalized American citizens the proper way, that's what my half brother's father did. In fact a lot of people i know in my community come from different countries such as Jamaica, Dommanican Republic and even Mexico and they happen to be some of the hardest working people in my community, while some undeniably came here illegally, the ones smart enough naturalized into the country overtime so spare me your sob story AOC, as a Puerto Rican, you know nothing about the threat of Deportations and given you grew up in a mostly white suburb within Westchester county, you likely know not actual immigrants in your personal life.
Her parents are Mexican immigrants. As a kid, Jessica saw families like hers torn apart by a broken immigration system.
I wasn't aware Trump was president in 1994, hmm convivent you ignore the facts that Democrats like Bill Clinton backed child separation policies and backed crackdowns on illegal immrgiation , funny how you're silent on Democrats separating your families AOC, i guess it's only bad when the Orange Man does it.
She saw her parents struggle to keep a small business afloat, while politicians in Washington protected large corporations.
Large corporations which you take money from huh bitch. Don't try to lecture us about coproate greeed when the only way your retarded Bimborican ass got into power was because of those very same large corproaritons you rail against giving you dark money
While Jessica is fighting for a better future for all of us, her opponent wants to maintain the status quo.
You don't get to lecture anyone about the status quo when you endorsed Andrew Homo over your own progressive ally Cythina Nixon
He's the single largest recipient of oil and gas PAC donations in the House in the 2020 election cycle.4 He calls the Green New Deal "a farce and a fairy tale.
And as someone who hates Big Oil, believes in the climate science presented to me and thinks Man Made Climate Change is a threat to civilization, i'm forced to agree with him, your bullshit Green New Deal is just that, a farce. In fact i'm going to make a journal on that soon enough.."5
And he has received piles of money from the private prison industry, including from the GEO Group, the private prison company that funds migrant shelters where several migrants have died.
Yet you endorsed Andrew Homo, the same man who takes Millions from the Private Prison Industry and take money from Mike Blooberg, a major backer of the Private Prison Industry and one who originated the infamous Stop and Frisk policies which locked up many blacks and Hispanics and part of the Democartic Party, the same party which sat there and did nothing when Obama and Bill Clinton locked Immigrants in these migrant shelters.
In defending private prisons, he said, "Without them, rapists, murderers, and other offenders would not be incarcerated and instead present a clear threat to our communities.
Considering the disastrous Bail reform here in NYC which caused a spike of violent crime, he's not wrong to be frank and I'm hardly the biggest fan of the Prison Industrial Complex". I mean you literally let a serial theft free here in NYC thanks to your progressive bullshit policies. Del Biaslo is such a disaster that i honestly pine for Giulinai of all people, he might've been a statist but at the very least he was an effective mayor and actually cleaned up NYC, in fact we need far more GUilllinais than we need Del Blasio's, maybe then San Francisco and Los Algeras as well as Balitomore won't be shithole cities.
7
The people of South Texas deserve a Democrat like Jessica who is going to fight for the interests of real people, not of big corporate donors like ExxonMobil and the private prison industry.
You lose the right to make a complaint about big Corporate donations when you violated several ethics in merely the first two months you were in office AOC.
Evan, will you join me and rush a donation of $3 split between Jessica Cisneros's campaign and MoveOn's critical election efforts? Her primary is on March 3, so we don't have much time.
I don't live in Texas so how about you take this Middle Finger instead.
I am so grateful to MoveOn members. You were there early to endorse my campaign. You were there at the Women's March. You were there when we stood together to publicize the horrors of family separation. And every day, you're fighting alongside me for Medicare for All, debt-free college, and the Green New Deal.
I was never for you, i hated your ass from day one your ass announced your run and hate you now. Frankly i wish you were an illegal so we can deport your ass because frankly like Iiihar Omar, you are an American hating communist who wants to destroy this country with unaffordable Healthcare and Open Borders and taxing us to death, you are the very threat that the Founding Fathers would fight against.,
Only together can we truly make progress on big issues. And it can't be done without enough progressive lawmakers in Congress. To bring about change, we need to bring more bold, progressive leaders to Washington. Jessica is the next-generation leader that we need, and I hope you will join me in lending your support to this critical effort.
Pa'lante!
–Alexandria Ocasio-Cortez
Make progeessice issues, you haven't done jackshit for the people of NYC, hence your ass is being primaried by 12 different Democrats sick of your bullshit. I won't back you but i will back your rivals. I hope you're ready to get primaried bitch.
You niggas can't even run your own goddman pimaries much less hope to sucker people like me to vote for you and give you people a cent of my money i need to now spend on dufffle bags thanks to your plastic bag ban bullshit you enitltied ricfucks in Ablany are forcing down our thorats just to make your ass happy .
I wonder if your bitch ass think of the millions of poor people you fucked over with that bullshit policy. As of March 1,2020, we can't even use plastic bags here in NYC, what unfair bullshit is that? How the fuck are people so stupid in NY to vote for politicains who push these dreadful polices
Frankly this policy is the final straw when it comes to my support of Democrats, rather than actually investing more money to try to clean the environment or even use their billions to make Biodegradable bags as affordable alternatives to plastic bags, they are willing to fuck over the poor while the rich elites fly private jets and live in beachfront properties.
https://www.wired.com/2016/06/banning-plastic-bags-great-world-right-not-fast/
If your chief concern is climate change, things get even muddier. One of the most comprehensive research paperson the environmental impact of bags, published in 2007 by an Australian state government agency, found that paper bags have a higher carbon footprint than plastic. That's primarily because more energy is required to produce and transport paper bags.
"People look at [paper] and say it's degradable, therefore it's much better for the environment, but it's not in terms of climate change impact," says David Tyler, a professor of chemistry at the University of Oregon who has examined the research on the environmental impact of bag use. The reasons for paper's higher carbon footprint are complex, but can mostly be understood as stemming from the fact that paper bags are much thicker than plastic bags. "Very broadly, carbon footprints are proportional to mass of an object," says Tyler. For example, because paper bags take up so much more space, more trucks are needed to ship paper bags to a store than to ship plastic bags.
This Plastic bag ban is bullshit, it won't make the environment any better so the sheep who back these policies are making shit worse, but then again given what i presented to you guys about the Democrats, they're completely out of touch morons.
https://gothamist.com/news/loophole-ny-plastic-bag-ban-could-let-stores-hand-out-thicker-plastic-bags
Hell there's already a loophole within the law that allows for thicker plastic bags which again shows you how much these fuckers take the cause of Climate Change seriously, this is all a ploy to fleece more money from the poor and give to the rich,Remind me how Trump is bad again? I would rather take a lifetime of Trumps than any Democrat at this point.
https://www.businessinsider.com/joe-biden-black-parents-cant-read-or-write-themselves-2020-2
Mind you these same people are constantly bitching about Trump's "Racism"despite no evidence he's actually racist, meanwhile "Frontrunner Biden" literally says black people are morons yet no pushback, then again if 90% of them vote Democart and vote in people like Biden who work with Segeraitonists,i'm forced to agree with Biden here, still very telling of the actual racism ingored by the fucking left, racism is only bad when conseratives say it but when some old iberals says it, it's okay.
He's not the only Klansman the Democarts are running, that lying Bloomberg literally was caught on video calling all Hispanics and Blacks criminals and baragging about not hiring them which is legit racism and baltant and brazen racism, it's not like "Some immrgrants are rapists" like Trump said, this is literally generalizing all Blacks and Hispanics as thugs yet Bloomberg gets black support, i wonder who are these Niggas voting for a man who probably refers to blacks as Niggers. Like this nigga call you all illlerate morons and yet you prove him right for voting for this racist peice of shit
Do tell me again black people why you vote Democrat? You want to call me an uncle tom house nigga for voting Turmp yet Trurmp has done more for black America than any of those Democarts you vote for so who's the fucking House Nigga now? Your frontrunners are all white men, you have Pete BootyJudge, the Gay Lerpuhchan Mic faggot who none of you homophobic niggas would support because you think men sucking dick is wrong unless it's prison, you got Bernie Sanders who's supporters jump Black people for speaking out of line of their ANTIFA mastas, you got Biden who loves to have Black kids on his lap and put them in jail for being black according to you people in Black Lives Matter and you got the White Devil himself Bloomberg, the lying fuck who admits to being a racist and barely hides his hatred of minorites and the poor.Maybe Biden and B loomberg are right about you morons, you vote in these corrupt politicains and you suprised why your communites are shit?
You niggas act like you're better than the Rednecks who vote for repubilcains who fuck over their communites when you do the exact same thing with Democarts, i don't see how this bullshit pandering that Democarts have done to minorites over the last half century is any less racist or condesceding as the Souther Strragery aimed at white racists in the south. You niggas vote Democarts who are against your best intrestes and desotry your communites.
Meanwhile Trump has desegernerated golf courses, fought for minority represnetaiton and even won awards on it back in 1999 and has always been on the side of Minorites to the point real niggas back when Hip Hop wasn't commerical made rap songs singing the praises of Trump but no sooner he ran as a Repiublican , the same Black rappers sold their asses out to Hillar "Super Preadtors" Clinton and now bash him, hence i lost the respect for modern rap, it's too coproate and too politcal and the music fucking sucks nowadays, bring back the real niggas from the 90's and early 2000's.
Now you moronic dumb shits are voting for Bloomberg who's done more than anyone here to fuck over Black America than anyone in the feild, you vote for Bloomberg, you revoke your right to speak about woke bullshit when you sold your black ass to that white devil.
https://trends.gab.com/item/5e4810d9267aba1ad35f81cf
]Especially when he's literally in the same boat as Hillary "Super Predators" Clinton..
Seriously Black America, when are you going to wake up as a whole and realize the Democrats have been playing your ass for decades?
https://www.breitbart.com/politics/2020/02/13/alabama-dem-introduces-legislation-mandating-vasectomies-for-men-at-age-50-or-after-third-child/
Tell me black America, do you want to be castrated for being shit fathers? For having a third father? This is the shit you're voting for, wake the fuck up.
Democarts are trying to push 12 year old transgenders down your throat which ytou fucking hate, they are over pushign the gay agenda, which you guys hate yet 90% of you vote for these people inside the government..
The Elite are out of touch with everyday Americans, they think rigging the election for this rich prick Bloomberg is going to help them beat Trump, failing to realize that Trump resonated with the Middle Class and even working class not because he was a Billionaire, but because he stood for something and actually gave a shit about the working class as seen with his Record Job Approval and the economy. I know this repetitive to point out Trump's record and my own disagreement with his policies but here we go again.
These people have sided with Neo Cons like John Bolton, a lying, vindicate snake who's trying to staobadge our president because he didn't get his way with Iran. The only trial this fucker should be in is him being hung for war crimes, fuck him and fuck anyone who defends this piece of shit.
The reality is that Democrats have nothing on Trump yet again and this is going to be a Historical disaster for the Democrats and the biggest political fumble since 2016, in fact much worse. The so called"Ukrainegate" is just a literary reskinned Russigate bullshit narrative and with even less evidence of collusion by Trump than Russigate yet Democrats who have nothing on Trump are desperate for a win so they're resorting to Impeachment..
Because the reality is Trump is exposing and calling out corruption of all the corrupt polticans within Washgingtion and they hate it, this isn't a fucking moral cause of trying to fight for naitonal security, it's to cover up corruption of the elites.
Meanwhile Democrats are living in this fantasy world thinking the walls are closing in on Trump but in reality, they're not even remotely close to beating Trump, they in fact doomed themselves and hence played themselves badly with this blatant political move. Trump has outmaneuvered pretty much every Democrat by making them Impeach them which is ironically benefiting Trump.
Trump's approval rating is rising thanks to this frace of an impeachment while chances of Democarts winning have dipped.
Hell this Impeahcment bullshit actually has caused a sruge of Benrie Supporters(Seriously you niggas still support this cuck?) who believe that Impeachment is a frace to rig the primary against Sanders in favor of Biden and because of that Bernie Sanders is the frontrunner
Despite the Media's disingenuous attempts to smear him as a Sexist in collusion with the Warren campaign.
The same sellout Sanders who recently called for Open Borders(Despite spending all of 2016 protesting Open Borders Policy, rightfully labeling them a Koch Brothers conspiracy)
The same Sellout Sanders who want terrorists and rapists to vote.
The same Sellout sanders who have ANTIFA as staff members, the borderline terrorist orgaiznaiton funded by the DNC and Clintons who call for putting conseratives in gulags and attacking people right of Marx and advaocacting terrorism
The same Sellout Sanders who called the cops on Project Veritas for reporting the truth on how vile and corrupt Bernie Sanders is, protizing communists and ANTIFA over Whistleblowers while claiming to be against censorship.
The same Sellout Sanders who pays his staff like shit yet wants to make other people share their wealth when he owns three mansions and doesn't share jackshit of his money.
The same Sellout Sanders who preaches about minimum wage yet refuses to pay the same people his own proposed Minimum Wage.
Meanwhile wants to make the rich pay a 97.5% tax rate.
The same Sellout Sanders who hires Palistanian holocaust denier and Jihadist Linda Sarsour who is part of a terrorist orgainzaiton who would enact a second Holocaust against Sander's people.
The same woman ousted by the Women's march.
Same Sellout Sanders who hires illegal immigrants for his campaign.
Same Sellout sanders who tucked his tail between his legs and endorse the woman who rigged the election against him.
Same sellout Sanders who defended Joe Biden's corruption
This guy is the frontrunner, frontrunner that would scare Neo Cons to voting Trump and scare moderates out of the Democartic Party as Never Trumpers are considering baling to Trump if Sanders.
Likewise if Sanders is rigged out of the primary again, his supporters would become Trump supporters, keep in mind as an Ex Bernie Bro, i was one of the 12% of Bernie Bros who voted for Trump (technically I never voted for Bernie in the primaries but the point stands)and the divde between Bernie Bros and the Neo Liberals is much larger than that of 2016 so frankly regardless of who wins in 2020, they're a net negative on the chances of winning.
. https://www.youtube.com/watch?v=COBnT0EIcX8
Hell Impeachment is such a disaster for Democrats that the odds of Trump winning 2020 has skyrocketted
'All because Democrats can't get over losing in 2016 running a terrible candidate who should be in prison for her crimes
But given the DOJ thinks actual crimes are less important than a partisan witch hunt, the bitch walks away.
Regardless watching Democrats make an ass out of themselves is hilarious.
Trumps is literally beating the Democrats on this impeachment hoax.
The Democartic candidates are so shit that they want Hillary to run who no one wants to support.
Meanwhile Democrats continue to sell their souls to Bolton, a blatant war criminal and warhawk.
And are so deep in their echochamber of thought they don't realize they're losing everyone around them.
They've been warned repeatedly not to pursue Impeach but does so anyways.
Meanwhile blacks and hispanics are being scared away from the far left push of the Democrats and the blatant pandering of the Democrats with black support with Trump as high as 34%
This kind of bullshit is just a remnider of how much the Democarts have sold the fuck out
https://www.youtube.com/channel/UC72aMeaVD3lzdTO-OCcYn3g/search?query=trump+wins
with a start of 3.2% GDP growth at the start of this year, Trump actually skyrocketed the economy far past his predecessors Bush and Obama with an economic boom surpassing that of the Clinton Era and Early Reagan Era. Fuck even CNN, the NPC center of news is admitting Trump has a good economy so the idea this dipshit can ignore reality and claim that Trump has a terrible economy is a symbol of pure delusion and mania where even Trump's worst enemies have even conceded defeat and admitted Trump's economy was good and they were pretty much wrong and underestimated him.
Hell Bloomberg 3 years back in a video that TOTALLY Aged well basically laughed at the idea of a 3% GDP growth rate under Trump yet here there are now eating crow.
Trump has won the Tariff wars against China, hell he's bringing jobs home to America for the first time in fucking decades.
As for Trump winning here are the following things Trump did right.
1) Pulled out of the TPP
2)Pulled out of the Paris Climate Accord
3) Record Job Growth
4) Highest manufacturing Job rate in decades
5) Lowest reported unemployment rate for non-whites
6)The lowest unemployment rate in 5 decades
7)Trump is already bringing back American jobs and halting decades of outsourcing
8)He's currently withdrawing troops in Syria and Afghanistan
9)He's already begun building the wall last year
10) Got 5,000 National Guard Troops for border protection
11)followed his promise to Renegotiate NATFA and got a new bilateral U.S. – Mexico
12)He got two Supreme Court Conservative Judges in the process
13)Get rid of Iran Nuke Deal which was a disastrous deal
14)Defeat ISIS has declared victory over them
15)Managed to have Border crossings arrests at an all-time low
16) Got deportations at an all-time high
17) successfully followed through his Lobbying Ban
18)He partially delivered within Comprehensive Tax Reform
19)Move U.S. Embassy in Israel to Jerusalem and officially recognize as capital
20)GDP growth cosnsienty at 4.0 GDP growth
21) recently curb stomped China on the Tariff and Trade War
22)Successfully cucked the Neo-Cons
23)Successfully passed Prison Reform
24)Peace between North and South Korea possible in our lifetime.
25) Launched the Global Initiate for LGBT rights
26)Prevented War with Iran(For now)
27) Signed a new trade deal with China wining the Trade War
28) Purged out Deep State Obama Holdovers from the cabinet
29) Is trying to undo the witch hunt Muller Probe.
And as of Yesterday just crossed the North Korean Border with Un and made a large advance towards peace.
Trump has far more positives going for him than negatives and that's something considering Trump has also blundered quite alot.
1) Has failed to deescalate conflict with Russia
2) Caved to the House and Senate on Russian Sanctions
3)Has considered invading Venezuela
4)The infamous Bump Stock ban attempt.
5) Has doubled the funding to Saudi Arabia
6)Has retained Obama era funding of Euromaidan in Ukraine
7)The Infamous Syrian Airstrike.
8)The FOSTA act
9)Appointing Aji Pat as part of the FCC regarding Net Netuirlairty removal
10)The Transgender Military Ban
11) Appointing Rick Perry to the EPA.
12) The indictment of Julian Assange
13)Continuing the Yemen Civil War.
14) The reauthorization of the NDAA and PARTIOT Act.
15) Has idiotic views that games cause mass shootings
16)Oppose Trump's Climate Science denial
17)Continuing Obama's drone strikes
18)The questionable Iranian Drone Strike
Even so, Trump continues with the W's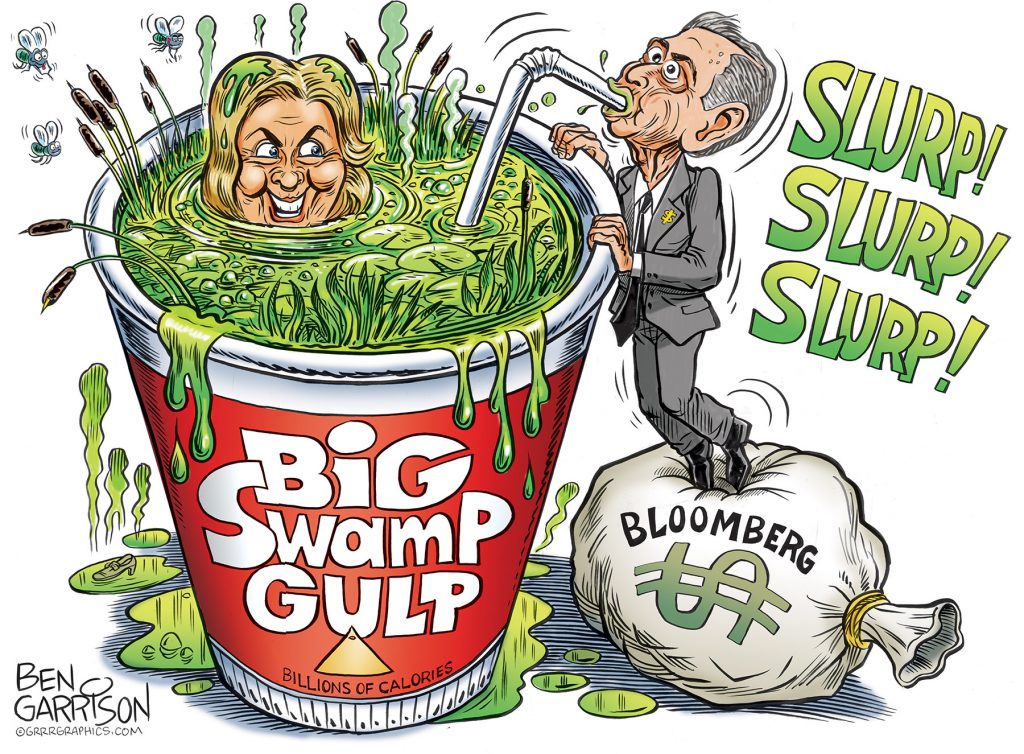 So bring your Deep State cum bucket Bloomberg with the wicked bitch of the west, See if i won't vote Trump again to spite you fucks. If Bloomberg wins the nomination, i'm voting for Trump again, no questions asked.
Democrats are sellouts, they either are cucking to Communism or communis is cucking to Muilt Billion dollar coprroaitons, Bloomberg represents everything wrong with Democrats and believe me, I'm willing to make sure he never comes close to winning.